Our Story
Fresh Beginnings is more than just a tin of cookies.  We bake and deliver a gift that reflects how much someone really cares. We provide high-quality gourmet cookies and treats to share with family and friends celebrating those special moments in life. It is the perfect "last minute" gift that looks like you planned for it for weeks!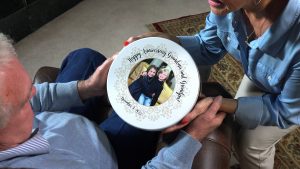 It all began thirty years ago, when owners Judy and Hugh Hathcock created a unique recipe for a fresh, soft and moist chocolate chip cookie that would ship nationwide, arriving at your doorstep as if it just came out of the oven. You may have received our gourmet chocolate chip cookies from an auto or RV dealer, realtor, or other businesses as a delicious thank you gift you still haven't forgotten!
Our Gourmet Chocolate Chip Cookie remains our #1 seller, but Fresh Beginnings has expanded its gourmet selections to include a wide variety of cookies, brownies, chocolate candies and pretzels, and nuts made and packaged just for your order. All of our gourmet cookies and chocolates are fresh-baked and hand-made in our onsite bakery and shipped the same day. We even include a hand-signed card with each gift for that extra special touch.
Judy and Hugh have three daughters, Heather (Josh), Hailee, and Hope; and two sons, Gage and Brandon (Emily). They also have two beautiful grandchildren, Maggie and Maddox.  Fresh Beginnings' (and partner company eLEAD1ONE) commitment to quality resonates with the family and friends you find working at the company: Gage Hathcock is a National Account Manager and Brandon Hathcock is an Inside Sales Manager at eLEAD; Heather Hathcock is a Marketing Coordinator with Fresh Beginnings, and Emily Hathcock is a Customer Service/Account Manager at Fresh Beginnings.  Hailee Hathcock contributes through her photography and fun to follow blog and all are involved in creative ideas for new recipes!  Throughout the company you will find children of employees who have grown up on our cookies, finished their education, and come home to help continue to grow the business.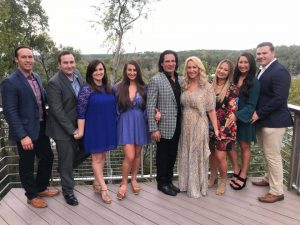 In 2013, Judy and Hugh were awarded the BIG Thinker Award by the Valdosta-Lowndes County Chamber of Commerce, presented to a self-made, visionary and successful entrepreneur who cares and gives back to their community.  This award was made possible with the support of a hard-working and dedicated team of family, friends, and employees who believed in the dreams of these two visionary leaders. Both the company and its employees are strong supporters of the community through their numerous donations and volunteer hours.
In addition, the family and employees are great corporate citizens. They are extremely generous and philanthropic throughout the year with the local community, non-profits, the military and beyond.