Our Story
Fresh Beginnings is more than just a tin of cookies. We bake and deliver a gift that reflects how much someone really cares. We provide high-quality gourmet cookies and treats to share with family and friends celebrating those special moments in life. It is the perfect "last-minute" gift that looks like you planned for it for weeks!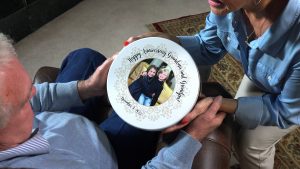 It all began 30 years ago, when founders Judy and Hugh Hathcock created a unique recipe for a fresh chocolate chip cookie that would ship nationwide, arriving at your doorstep as if it just came out of the oven. You may have received our gourmet chocolate chip cookies from an auto or RV dealer, realtor, or other business as a delicious thank you gift you still haven't forgotten!
Our Gourmet Chocolate Chip Cookie remains our #1 seller, but Fresh Beginnings has expanded its gourmet selections to include a wide variety of cookies, brownies, chocolate candies, pretzels and nuts made and packaged to order. Our gourmet cookies and chocolates are fresh baked and handmade in our on-site bakery and shipped the same day.
In 2013, Judy and Hugh were awarded the BIG Thinker Award by the Valdosta-Lowndes County Chamber of Commerce, presented to a self-made, visionary and successful entrepreneur who cares and gives back to their community. This award was made possible with the support of a hard-working and dedicated team of family, friends, and employees who believed in the dreams of these two visionary leaders. Both the company and its employees are strong supporters of the community through their numerous donations and volunteer hours.
In 2018, CDK Global, a leading enabler of end-to-end automotive commerce, acquired our parent company, ELEAD1ONE, a leading provider of fully integrated Customer Relationship Management (CRM) software solutions for automotive dealers. With more than $2 billion in revenues, CDK Global is a leading global provider of integrated information technology and digital marketing solutions to the automotive retail and adjacent industries. We look forward to the many opportunities this provides as we continue to provide our tasty treats across the globe.